Quality
Gemstones

Showroom 2

Personal
Service
---


Amethyst Round. 20.75 mm. Sparkling, large, brilliant cut stone that will make a big impression. The shallow depth on this large stone lets you use it in lots of design ideas. 27.92 carats. amrd2792. $1,340.00.



---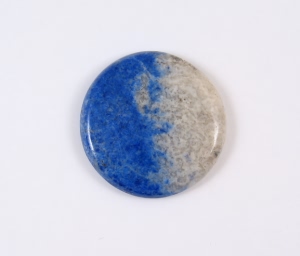 Lapiz Lazuli and Alabaster. Round Disk. 37.5 mm. Large disk has an intriguing color pattern -- half lapis lazuli and half alabaster. Lapiz half is medium blue with spots of dark blue. Alabaster half is mottled mix of opaque white and transparent light grey alabaster. A cluster of tiny black crystal inclusions is visible at the girdle. Identical flat-top cabochon cut on both sides. This Chilean lapis is harder than the commonly used lapis and is more resistant to scratches. On the reverse side the alabaster is a quarter-moon shape with the man-in-the-moon's nose protruding into the blue lapis.More pictures. 1 piece. lapisalabdisk. $94.



---


Quartz, Rutilated. Freeform flat. 29.85mm x 24.38mm x 7mm. Yellow, thin rutile needles looking like a shower of Pele's Hair around at least two opposing crystal growth centers of golden rutile. The stone tapers from 7mm wide at the bottom to 2.5mm wide at the point. The stone is cut to be double sided and can be used with either side to the front. Both sides have a buff top and edges faceted to the midpoint of the edge. Larger picture. 33.85 ct. qtzrut2285. $101.55.



---


Texas Flame Agate. Freeform. 27.6 mm x 23 mm. Dense red masses and clear to translucent white. An agate from Texas with strking color and a shape to pique the designer in you.More pictures. . 1 piece. ag1. $26.00.



---


Cats-eye Chrysoberyl Round. 6.3 mm. Yellow, transparent to translucent with a strong eye. This is a native cut stone from the late 1980ís. The bottom is slightly bellied with an irregular bevel just below the girdle. The image was taken from an angle. 1.5 carats. chrys150. $450.00.



---


Mookaite. Mooka Jasper or Mookaite. Freeform Cabochon. 28.2 mm x 15.7 mm x 6.6 mm. A rare jasper found only in the Mooka valley in Australia. Rich shades of red and yellow with some clear, white and green spots flow and swirl in amorphous bands. This irregular pattern and the freeform shape makes each piece is unique. This material takes a high polish. 15.05 carats. 1.00 pc. moo1505. $28.70.



---


Mooka Jasper. Freeform Cabochon. 65.43 mm x 20.02 mm x 6.82 mm. Australian jasper found in the Mooka valley. In this piece you can see a leaf shape in the the yellow and graduated shades of rose and mauve, a surprising and very pretty combination. Shaped as a partial cylinder with angled ends and trapezoidal outline. 38.03 carats. 1.00 pc. moo3803. $76.00



---


Mooka Jasper. Freeform Cabochon. 31.40 mm x 20.55 mm x 7.20 mm. Australian jasper found in the Mooka valley. Green colors show in this piece as a lens in the red part and on the longest side. Thin strips and tiny spots of red show in the buff/yellow part. Shaped as a partial cylinder with angled ends and trapezoidal outline. Measured diagonally point to point. 17.44 carats. 1.00 pc. moo1744. $35.00



---


Strawberry Quartz Shield Shape. 16mm x 12.5mmx 8mm deep. Clear quartz with red inclusions cut in a shield shape with checkerboard top. An unusual and interesting stone. 8.36 carats. qtzst836 $133.76.



---


Yellow Beryl Emerald Cut. 12.5 mm x 7 mm x 8 mm. An eye-catching, sparkling brilliant cut in clean, medium yellow material. This is an excellent stone. More pictures on black background. 4.47 carats. bye447. $447.00. SOLD



---


Aquamarine. Hexagon. 15 mm x 8.3 mm x 6.2 mm. This stone features a wide rolling flash of light blue that, in some lights, doubles across the slightly pointed keel. 5.03 carat. aqhex502. $241.44.



---


Amethyst. Pear Shape. 21.5 mm x 13 mm x 10.25 mm. A pattern of concave circles cut into one side of the pavilion reflects across facets appearing and disappearing as illusory bubbles. 14.74 ct. amps1474. $884.40.



---


Golden Beryl. Octagon. 11 mm x 11 mm x 6.6 mm. Rich golden color. Although shallow, this stone does not window because of the brilliant cut pavilion. 3.87 ct. bgo387 $464.40.



---


Amethyst. Round. 12 mm. Numerous facet reflections from this deep Portuguese cut. Cut from ametrine rough, this stone shows a small area of yellow color at the girdle. Medium to dark color. 6.65 ct. amrdport $266.00



---


Rhodolite Garnet. Emerald Cut with checkerboard table. 10.7 mm x 6.7 mm x 5.1 mm. Deep wine color. Veils through the center are perpendicular to the table and well disguised by the fancy top. 3.61 ct. gaeck361 $86.64



---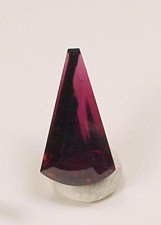 Spessartite Almandine Garnet. Pie Shape. 17.5 mm x 9.75 mm x 6.5 mm. Dark red color with magenta undertones sparkle at wide end and flash through the length on this stone. Spessartite inclusions aid sparkle. More pictures. 6.30 ct. gnpi630 $252.00



---


Aquamarine. Emerald Cut. 11.75 mm x 7.3 mm x 6.7 mm. Medium blue color and clean with lots of sparkle and no windowing. An exceptionally nice stone. 3.48 ct. aqec348 $696.00



---


Amethyst. Emerald Cut. 15.5 mm x 9.7 mm x 6.5 mm. Checkerboard table gives a rolling flash to this light colored stone. 6.02 ct. amec602 $108.36



---


Rhodolite Garnet. Emerald Cut. 14 mm x 9.7 mm x 6.5 mm. Red with maroon and magenta undertones. Shallow depth but does not window. Veil runs diagonally under table; does not break surface. 7.91 ct. rhec791 $411.32



---


Spessartite Almandine Garnet. Octagon. 12 mm diameter x 7.3 mm depth. Very red with maroon undertones, extra crown facets and lots of fire. Inclusions not noticeable face up. A very nice stone. 8.09 ct. gaoc809 $323.60



---


Garnet. Pie Shape. 8 mm x12 mm x 5.6 mm. A lot of sparkle and fire in this very red stone. Spessartite almandine garnet species. 3.22 ct. gnpi322 $386.40



---


Citrine. Oval/dodecagon. 19 mm x 14.5 mm x 9.85 mm. This "oval" shape is formed from twelve straight cuts around the girdle. The crown is step-cut from these straight segments. Medium yellow. Interesting variation to the standard oval. Calibrated size. 14.36 ct. ctov1436. $344.64



---


Amethyst. Oval. 20 mm x 13 mm x 12.83. Supernova Cut. Differently shaped facets juxtaposed on the pavilion increase the reflections flashing through the crown. This is a beautiful, impressive medium to dark stone. 15.92 carats. amov1592. $764.16



---

† †
Address of this page: www.darmarenterprises.com/showroom2.html